FLQ Technology (Kuwait) Ltd
Seafood Scissors
All orders are cash on delivery (COD)
EASILY OPEN UP LOBSTER SHELLS!
The quickest and easiest way to crack and cut lobster, shrimp, crab, and more on your next seafood feast with our Seafood Scissors. You can be FREED FROM THE TEDIOUS TASK OF OPENING UP your favorite lobster!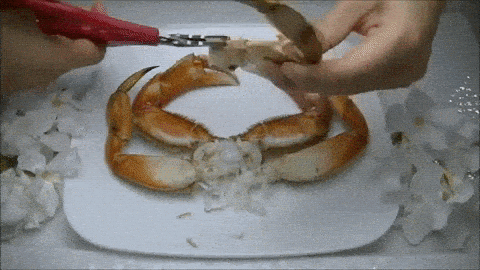 NOW
 you'll be able to 
ENJOY DINING ON THAT LOBSTER
 hassle-free and as quick as a flash! This shears or seafood scissors is an innovative tool to easily cut through hard seafood shell!
This Seafood Scissors simplifies the tedious process of opening lobster shells for EASIER DINING so that the WHOLE FAMILY CAN RELISH EATING THAT OH SO DELICIOUS & JUICY LOBSTER MEAT! This multifunctional shear is your source for the widest range of functional, inventive, and fun kitchen tools. Enjoy eating your favorite Seafood using our seafood scissors!
Our Seafood Scissors is a useful kitchen tool for removing meat from lobster and crab legs and for deveining shrimp. When using the scissors, the first step in removing meat from a lobster is to crack the claws with the serrations located on the inner edges of the handles.

Cutting your favorite seafood dish is easier than ever before. Be Like a PRO-cutter! Safe to use with all the meat intact for you to put it into your mouth and taste every bit of the Lobster's delicious meat. 
Features:

STAINLESS-STEEL & CURVE BLADE: These scissors feature a durable, sharp substance that cuts through shell-fish with ease. It is made of stainless steel with Santoprene handles for a comfortable & integrated grip to remove the small claw. 
SOFT COMFORT & SAFE: Prevents the scissors from slipping when wet and allows optimal leverage for tackling even the hardest of lobster shells with little effort.
REMOVABLE & CONVENIENT: Keeps delicate lobster meat intact when retrieving without leaving any excess shell fragments behind.  Enjoy lobster dining safely!
EASY TO USE & STORAGE: Simply insert the cutting edge into one extremity and cut towards you. It is compact for easy storage & helpful addition to other seafood tools. 
UNIVERSAL: Ideal for lobster, crab, shrimps, and scampi. It's straightforward to use, designed for snug handling.
DISHWASHER SAFE & PERFECT GIFT: These seafood scissors are dishwasher safe for easy cleanup. And the ideal choice to present, also perfect for enjoying a whole lobster and for cleaning up shrimps too.
Specifications:
Material: Stainless Steel Blades and plastic.
Product Dimensions: 7.7 x 2.8 x 0.5 inches.